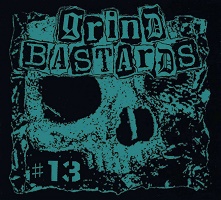 GRIND BASTARDS #13 CD!!
V.A. / GRIND BASTARDS #13 (CD) 税込み\1000-

名古屋の激音イベント"GRIND BASTARDS"参加バンドによるオムニバスアルバム第13弾。LITTLE BASTARDS、FORTITUDE、DISGUST、TAINTED DICKMENの最新録音曲。東京メタルパンク新星MILITARY SHADOWの新曲。東京Black/Thrasher EVILはDemo音源の再録。大阪Crossover CYCOSISの新曲。埼玉Metallic Crust REVOLTの新曲。四日市Japanese Hardcore CONFRONT、Doraidのメンバー参加のジャパメタEVIL EXTASY、UNHOLY GRAVEは未発表スタジオ音源で参加。名古屋Crossover Thrash PUNHALADAは、あの名曲をカヴァー等、バラエティ豊かで最後まで一気に聞かせる未発表音源集。
Produced by TAKAHO (Unholy Grave)

収録内容
1-PUNHALADA "Into the Crypts of Rays"
2-CYCOSIS "Damage"
3-EVIL "火炙り"
4-YxAxD "Own War"
5-EVIL EXTASY "Turn Your Back"
6-TAINTED DICKMEN "One Chance"
7-LITTLE BASTARDS "Nightmare"
8-MILITARY SHADOW "Freedom"
9-CORBATA "Departure for Death"
10-UNCONSCIOUS NONDISCRIMINATION "Overlooked Something Important"
11-MORALESS "Wanna Be ..."
12-CONFRONT "One Shot Fightback"
13-VULGAROYAL BLOODHILL "JRTA"
14-DISGUST "G.P.O."
15-FORTITUDE "Daymare"
16-PLEASURE AND THE PAIN "Again"
17-AXE HELVETE "Escape from Gloomy Night"
18-UNHOLY GRAVE "Self Despise"
19-REVOLT "Slaves of God"
20-GATE "Pleasuretoendallpleasures"

5月18日発売予定!!